After University, Stuart is drawn into the flooring industry
While Stuart Place was studying for a degree at university he didn't expect that 20 years later he would be director of his own company. It is a journey that has seen highs and lows for Stuart over the years and it all began after a change of heart. He recalls "When I went to university I thought I was on the path to being a teacher, but after three years of studying I was sick of living on beans and at age 21 I thought I could make it as a musician."
"So, after my degree I got a temporary job on site with Alfred McAlpine, who were building the Royal Armories Museum in Leeds, and the band I was in gigged as often as we could at night."
Enjoying the construction work, a year later, in 1996, he was taken on by Harmony Contract Flooring, in Bradford, where he learned the flooring trade from scratch.
"It was quite an unusual trade for an English student to go into but it suited me well" Stuart adds. By 2002 he was working as an estimator for Mark Paynter Contracts in Shipley, West Yorkshire, where he remained for seven years, until, he says "I was offered the opportunity in 2007 to set up a company with three other directors and I fancied a new challenge."
Unfortunately, the firm launched just at the start of the credit crunch. "It was the worst possible time to set up a company and things became increasingly tough" says Stuart.
In 2011, Stuart was approached by Airedale Flooring Contractors, based at the time in Keighley, West Yorkshire, who were looking to expand the business. Stuart joined two other directors in the company but again faced hard times in the still struggling economy.
After Brad Hopkins moved to Norfolk in late 2013, Stuart became the sole director running the company with his team of fitters. Eighteen months on, and after moving the business to Leeds where he lives, Stuart says the future is looking promising.
"We've managed to get through the tough times. We downsized and I feel now the company is a manageable size, we're in a stronger position with good working relationships and reputation.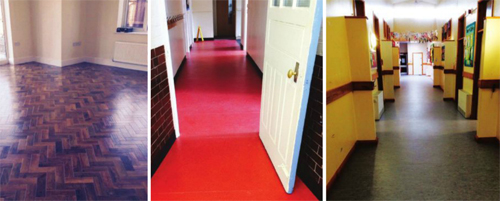 Everything I do is tendered, and I have a regular group of contractors I work with and trust. We only take on work that we know we can deliver well and, as such, I rely and trust my fitters a lot on the contract management side. It works well - they know they can trust me in return."
Airedale works with most types of soft floors, including carpets, carpet tiles, LVTs, vinyls, linos and, as Stuart says "anything you can cut with a Stanley knife!"
Stuart's contracts include most of the manufacturers and he also works closely with suppliers. He feels he has built good relationships with everyone he has worked with over the last 20 years.
"Price, reliability and availability are the most important aspects in keeping good relationships with manufacturers and suppliers, all a flooring contractor can ask from then is keen prices, stock availability of the most common products and delivery on time. In return, it is important to pay them on time and I make sure I do."
As Stuart looks to the future he is keen to remain a member of the CFA. "When we set up the company in 2007 one of the first things I wanted to do was join the CFA, I wanted to be known and seen as a reputable company going forward in a reputable way. This carried through when I joined Airedale, so we became CFA members as soon as possible.
It is important to be seen by your clients and competitors as a company that can be relied upon and trusted, and that can certainly be helped by being part of a trade body such as CFA."